Weight Watchers can help you reach your New Year's Resolution goals




Wed, 11 Jan 2017
Location: Newberry Memorial Hospital (2669 Kinard Street Newberry, SC 29108)
Time: Thursday at 6:15 PM
Buy a meetings subscription plan (monthly pass) by January 16, 2017 and Weight Watchers will refund your first two months of fees or give you a two month time credit on your subscription if you lose 10 pounds in the first two months! Offer available for new members only. Contact Lorie Hawkins at (803) 924-8852 for more information!
Happy New Year!




Wed, 6 Jan 2017
We hope you and your family had a very Merry Christmas and continue to have a happy and prosperous New Year!
Celebrating 20 Years




Fri, 13 Jan 2017
Today we celebrate 20 years of service to the good people of Newberry County! Thank you for allowing us to help you get back to LIFE!
New Study Proves Early Physical Therapy Reduces Opioid Use
Fri, 25 Jan 2019
The results of the study demonstrated that receiving physical therapy within 30 days of the onset of acute musculoskeletal pain for low back, shoulder and knee pain was associated with a 5-10 percent reduction in the use of opioid medication. This finding can go a long way in reducing the incident rate of opioid prescriptions and the possibility of becoming addicted to the medication. This further supports the concept that physical therapy is an evidenced based profession that utilizes a wide range of non-addictive treatments that offer pain relief and improve performance of functional activities.
Did you know that PT can treat Vertigo?
Wed, 20 Feb 2019
What is BPPV?
Benign Paroxysmal Positional Vertigo (BPPV) is an inner ear disorder in which changes to the position of the head, such as tipping the head backward, lead to sudden vertigo – a feeling that the room is spinning.
How is BPPV diagnosed? It is diagnosed with a Dix-Hallpike test. This test involves observing the eyes with the head and body positioned in specific ways.
What does PT consist of?
An Epley maneuver is a procedure in which the clinician moves your head into five positions, maintaining each position for approximately 30 seconds. The goal of this treatment/test is to move the otoconia from the semicircular canals to a less sensitive location within the inner ear. It can be called particle repositioning. This treatment takes about 15 minutes and alleviates symptoms in about 80% of patients.
Blood Flow Restriction
Mon, March 11 2019
What is Blood Flow Restriction?
Blood Flow Restriction (BFR) is accomplished by an application of pressure to the extremities. The pressure is sufficient to maintain arterial inflow while blocking venous outflow. The goal of BFR is to enable patients to make greater strength gains while lifting lighter loads—which reduces the overall stress placed on the affected joint.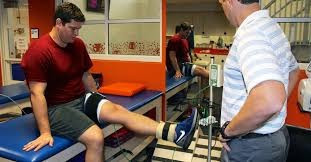 No Referral Required!
Wed, 27 March 2019
What is Direct Assess?

Direct access is exactly what it sounds like: patients have direct access to physical therapy services. This means that they do not need a physician referral or prescription in order to receive the services of physical therapist.
In the State of South Carolina, we can treat a patient for 30 days without a referral from the doctor.
Arthritis Affects 1 in 4 in US; More Emphasis on Physical Activity Needed



Friday, 10 May 2019
According to the The US Centers for Disease Control and Prevention's (CDC's), the latest studies revealed an estimated 54.4 million US adults have diagnosed arthritis—about 1 in 4 Americans. Of those, about 27% report experiencing severe joint pain. The prevalence of arthritis increased with age and was higher for some demographic groups, including women.

Making matters worse, says CDC, of those with arthritis, around a third report that they don't engage in any physical activity, the very thing that "can improve physical functioning in adults with joint conditions."

Congratulations Matt!



Friday, 7 June 2019
Congratulations to Matthew Whitaker, DPT, OCS! He is now the director at Chapin Rehabilitation Clinic, in Chapin, SC. For patients who need to contact Matt, he can be reached at (803) 345-3811.
Did You Know? Research Shows Americans are Increasingly Sedentary



Friday, 9 August 2019
Here's some news you shouldn't take sitting down: since the release of national physical activity (PA) guidelines in 2008, Americans haven't really made a dent in improving PA rates, while "significantly" increasing the amount of time spent on sedentary behavior. Those findings were the major revelations from a first-of-its-kind study that factored work, leisure-time, and transportation-related PA (most PA studies have focused on leisure-time activity only).

The study, published in JAMA Network Open, analyzed results from 27,343 adults who participated in the National Health and Nutrition Examination Survey (NHANES) from 2007 to 2016. Researchers wanted to find out what percentage of Americans met the US Department of Health and Human Services' activity guidelines, and how that rate may have changed since the release of the guidelines in 2008. Those guidelines, updated in 2018, recommend at least 150 minutes per week of moderate-intensity PA or 75 minutes of vigorous PA (or an equivalent combination of both).

Even worse, researchers noted a significant increase in sedentary behavior over the same time period, from 5.7 hours per day in 2007-2008 to 6.4 hours per day in 2015-2016. The increase was recorded in nearly every demographic subgroup in the study, and was highest among individuals with college-or-higher educations and individuals who are obese.

"Both insufficient [PA] and prolonged sedentary time are associated with a high risk of adverse health outcomes, including chronic diseases and mortality," authors write. "Our findings highlight a critical need for future public health efforts to aim for not only an increase in [PA] but also a reduction in sedentary time."
Bottom Line: We've got to get moving!
What is Direct Assess?

Direct access is exactly what it sounds like: patients have direct access to physical therapy services. This means that they do not need a physician referral or prescription in order to receive the services of physical therapist.
In the State of South Carolina, we can treat a patient for 30 days without a referral from the doctor.
How Can Physical Therapy Help You?
Wednesday, 14 August 2019
If you have experienced a debilitating injury or illness, the road to recovery may seem daunting. Any serious injury, illness or condition that causes pain, physical impairment and limited movement often incorporates physical therapy treatment. Physical therapy treatment includes an evaluation, assessment and treatment from a specially trained therapist.

Physical therapists provide various treatment methods and techniques to help you participate in your recovery. Through the use of various modalities, physical therapists can help patients to improve strength, balance, flexibility, posture and overall quality of life. Pain-free movement is crucial to your quality of life, your ability to earn a living and your independence.

Physical therapy helps people of all ages who have medical conditions, illnesses or injuries that limit their regular ability to move and function. How can physical therapy benefit you?

Reduce or eliminate pain – Therapeutic exercises and manual therapy techniques such as joint and soft tissue mobilization, or treatments such as ultrasound, taping or electrical stimulation can help relieve pain and restore muscle and joint function. Physical therapists are experts in treating pain because they will identify areas of weakness or stiffness that may be adding stress to painful areas to get to the source of the pain and personalize treatment.

Avoid surgery – Did you know that if physical therapy helps you eliminate pain or heal from an injury, you may not need surgery? Even if surgery is required, you may benefit from pre-surgery physical therapy. When you go into surgery stronger and in better shape, you can recover faster afterwards.

Improve mobility – If you're having trouble standing, walking or moving, physical therapy can help no matter your age. Flexibility and strengthening exercises help restore movement. Physical therapists can properly fit individuals with any assistive device such as a cane, crutches or any other device, and are able to customize an individual care plan so that whatever activity is important to an individual's life can be adapted to ensure maximal performance and safety.

Recover from a stroke – It's common to lose some degree of functionality and movement post-stroke. Physical therapists can improve stroke patients' ability to transfer and move around in bed so that they can be more independent around the home, and reduce their burden of care for toileting, bathing, dressing and other activities of daily living. Physical therapy helps strengthen the weakened parts of the body and improve gait and balance.

Recover from or prevent a sports injury – Physical therapists are specially trained to understand how various sports can increase your risk for specific types of injuries, and can design appropriate recovery and prevention exercise programs to ensure a safe return to your sport.

Improve your balance and prevent falls – Physical therapists initially screen new patients for fall risk. If you're at high risk for falls, therapists will provide exercises that safely challenge your balance to better prepare you for real-life situations.

Physical therapy helps to improve many conditions, including diabetes and vascular conditions, heart and lung disease, age-related issues and women's health concerns. Regain independence and improve your life through the benefits of physical therapy.
Call us if you feel you would like to schedule an appointment with us! (803) 276-7370
To celebrate PT month, we are giving away a free PT consult with Mark A. Waldrop, DPT!
To enter, go to our Facebook or Instagram and follow the post instructions! Or you can email us YOUR experience with physical therapy. It could be how PT has affected you or a family member. (Email address: npt@bellsouth.net)
Good luck and spread the word! :)
october is Physical therapy month!