Weight Watchers can help you reach your New Year's Resolution goals




Wed, 11 Jan 2017
Location: Newberry Memorial Hospital (2669 Kinard Street Newberry, SC 29108)
Time: Thursday at 6:15 PM
Buy a meetings subscription plan (monthly pass) by January 16, 2017 and Weight Watchers will refund your first two months of fees or give you a two month time credit on your subscription if you lose 10 pounds in the first two months! Offer available for new members only. Contact Lorie Hawkins at (803) 924-8852 for more information!
Happy New Year!




Wed, 6 Jan 2017
We hope you and your family had a very Merry Christmas and continue to have a happy and prosperous New Year!
Celebrating 20 Years




Fri, 13 Jan 2017
Today we celebrate 20 years of service to the good people of Newberry County! Thank you for allowing us to help you get back to LIFE!
New Study Proves Early Physical Therapy Reduces Opioid Use
Fri, 25 Jan 2019
The results of the study demonstrated that receiving physical therapy within 30 days of the onset of acute musculoskeletal pain for low back, shoulder and knee pain was associated with a 5-10 percent reduction in the use of opioid medication. This finding can go a long way in reducing the incident rate of opioid prescriptions and the possibility of becoming addicted to the medication. This further supports the concept that physical therapy is an evidenced based profession that utilizes a wide range of non-addictive treatments that offer pain relief and improve performance of functional activities.
Did you know that PT can treat Vertigo?
Wed, 20 Feb 2019
What is BPPV?
Benign Paroxysmal Positional Vertigo (BPPV) is an inner ear disorder in which changes to the position of the head, such as tipping the head backward, lead to sudden vertigo – a feeling that the room is spinning.
How is BPPV diagnosed? It is diagnosed with a Dix-Hallpike test. This test involves observing the eyes with the head and body positioned in specific ways.
What does PT consist of?
An Epley maneuver is a procedure in which the clinician moves your head into five positions, maintaining each position for approximately 30 seconds. The goal of this treatment/test is to move the otoconia from the semicircular canals to a less sensitive location within the inner ear. It can be called particle repositioning. This treatment takes about 15 minutes and alleviates symptoms in about 80% of patients.
Blood Flow Restriction
Mon, March 11 2019
What is Blood Flow Restriction?
Blood Flow Restriction (BFR) is accomplished by an application of pressure to the extremities. The pressure is sufficient to maintain arterial inflow while blocking venous outflow. The goal of BFR is to enable patients to make greater strength gains while lifting lighter loads—which reduces the overall stress placed on the affected joint.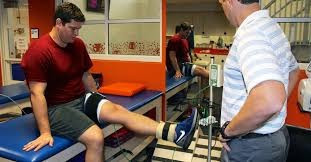 No Referral Required!
Wed, 27 March 2019
What is Direct Assess?

Direct access is exactly what it sounds like: patients have direct access to physical therapy services. This means that they do not need a physician referral or prescription in order to receive the services of physical therapist.
In the State of South Carolina, we can treat a patient for 30 days without a referral from the doctor.
Arthritis Affects 1 in 4 in US; More Emphasis on Physical Activity Needed



Friday, 10 May 2019
According to the The US Centers for Disease Control and Prevention's (CDC's), the latest studies revealed an estimated 54.4 million US adults have diagnosed arthritis—about 1 in 4 Americans. Of those, about 27% report experiencing severe joint pain. The prevalence of arthritis increased with age and was higher for some demographic groups, including women.

Making matters worse, says CDC, of those with arthritis, around a third report that they don't engage in any physical activity, the very thing that "can improve physical functioning in adults with joint conditions."

Congratulations Matt!



Friday, 7 June 2019
Congratulations to Matthew Whitaker, DPT, OCS! He is now the director at Chapin Rehabilitation Clinic, in Chapin, SC. For patients who need to contact Matt, he can be reached at (803) 345-3811.